Product details of Xiaomi Mi Band 4 Smart Bracelet Heart Rate Monitor Sport Watch - General Version
0.95" color AMOLED display
135mAh battery capacity
Activity tracking (Count steps, distance, calories burned)
6 workout modes, Health monitoring
Bluetooth 5.0 (Low energy)
System requirement: Android 4.4, iOS 9 and above
Main Features​ :
* Color Sreen: 0.95" AMOLED Display, resolution : 240x120 pixels.
* Alarm (Must be set in Application Snooze Mode : 10 minutes) .
* Sensor: 3-axis accelerometer, 3-axis gyroscope,
* Maximum 50 Event reminders.
* Bat : 135mAh batcompacity,Up to 20 days (Recharging time ~2 Hours)
* Camera, DND Mode (Not 100% sure for now)
* Music Smart Control.
* MI AI Speaker.(Only for Chinese)
* Six Sports Activities (Cycling, Free training, Run, Swim, Treadmill, Walk, Swim)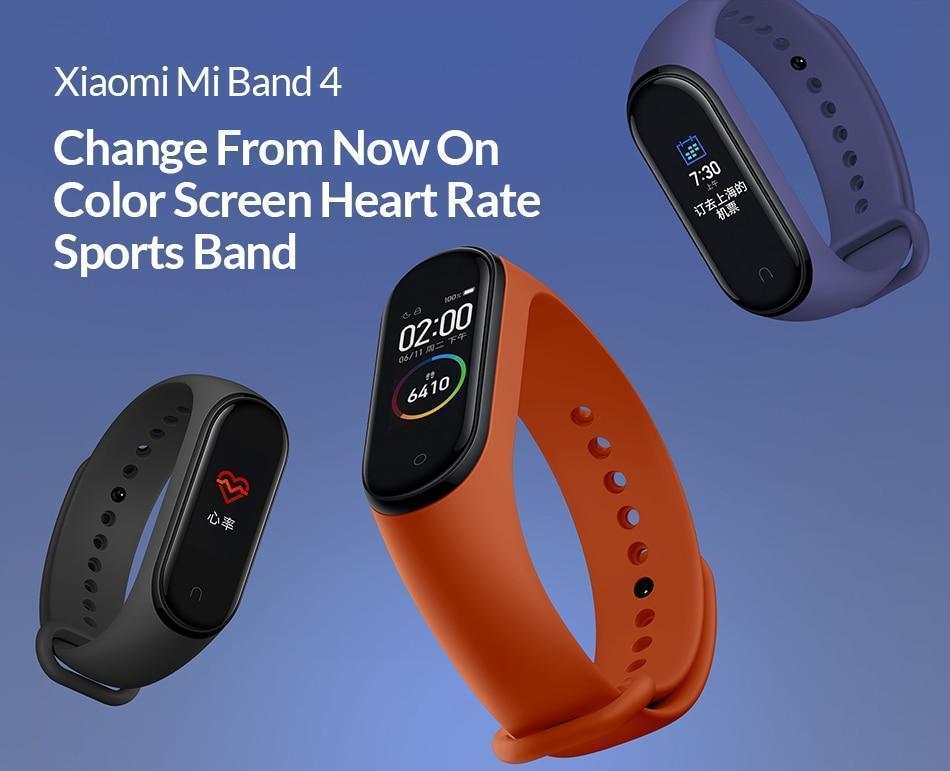 New Arrival Mi Band 4
The mi band 4 will have an OLED color screen, support multiple personalized dials, and a 39.9% larger display than the previous generation. The batcapacity will also increase to 135mAh. In terms of functional experience, mi band 4 will be support mobile payment.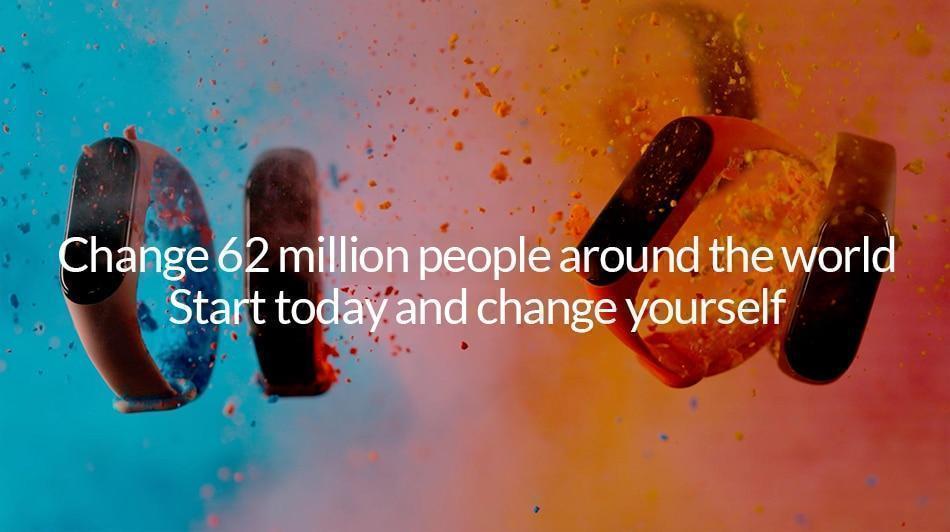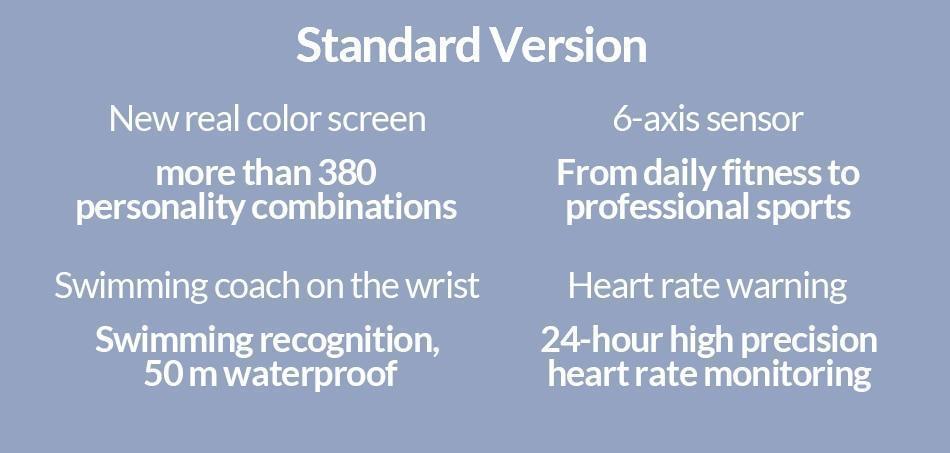 0.95" AMOLED Screen Bigger & Color Display
Colorful display with 2.5D tempered glass anti-fingerprints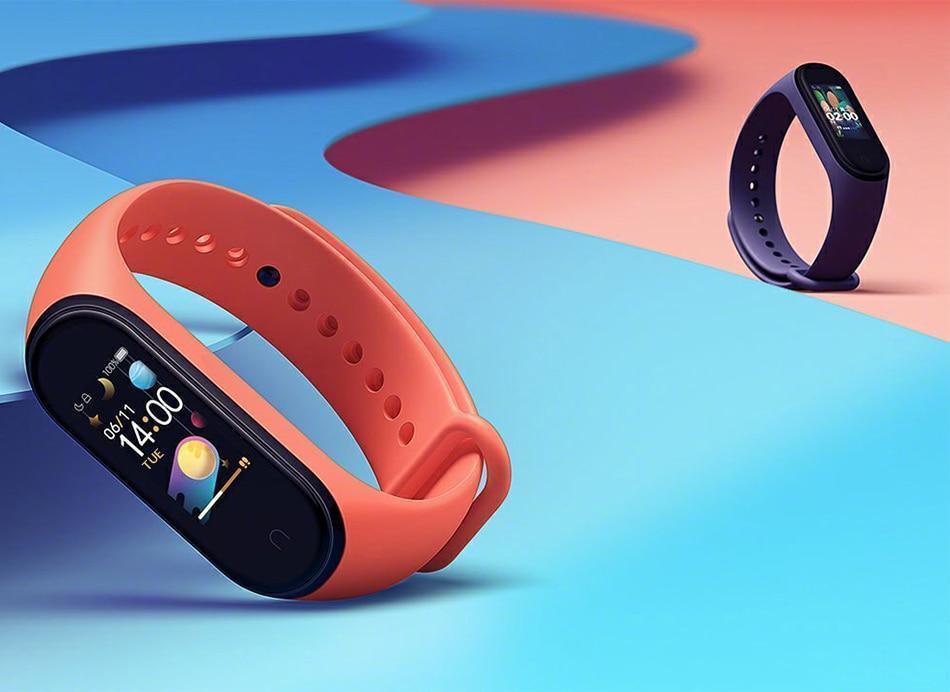 All new various user interface, Supports a wide range of motion modes
smoother and simplified touch screen experience, support brightness adjust mode
Not only the brightness is increased, but the display area is increased by 39.9%, view more information at first sight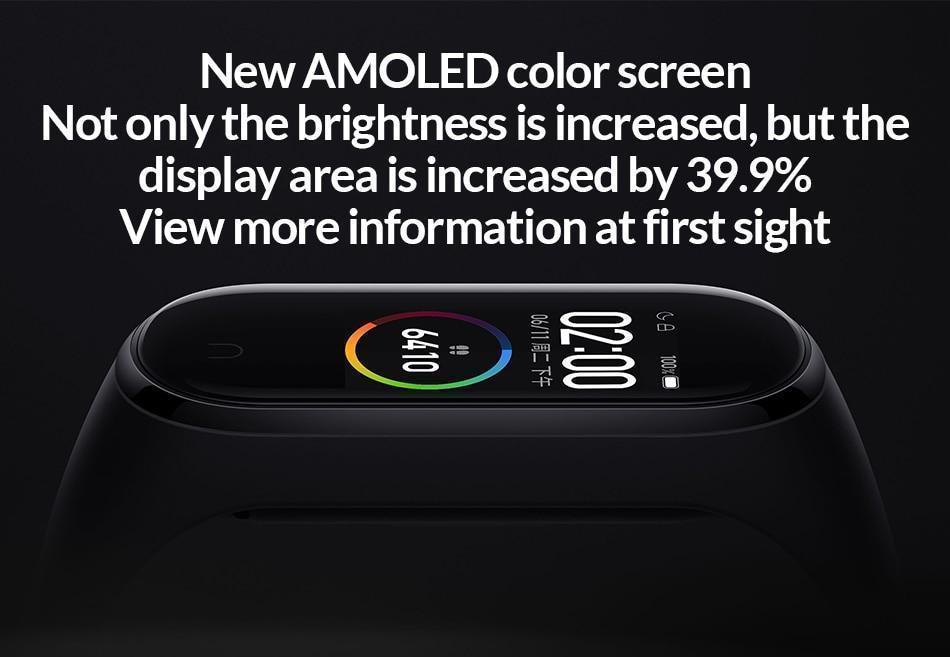 Caller ID, see information , WeChat red envelope, time reminder, Instant message display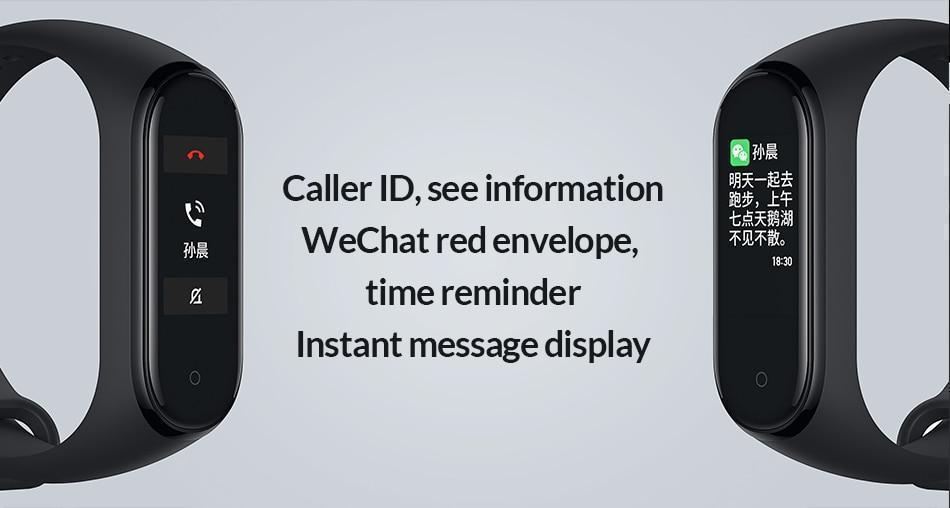 Activity Tracking
count steps, distance, calories burned support 6 work out mode
Cycling mode
Heart rate feedback instantly, improve your ride experence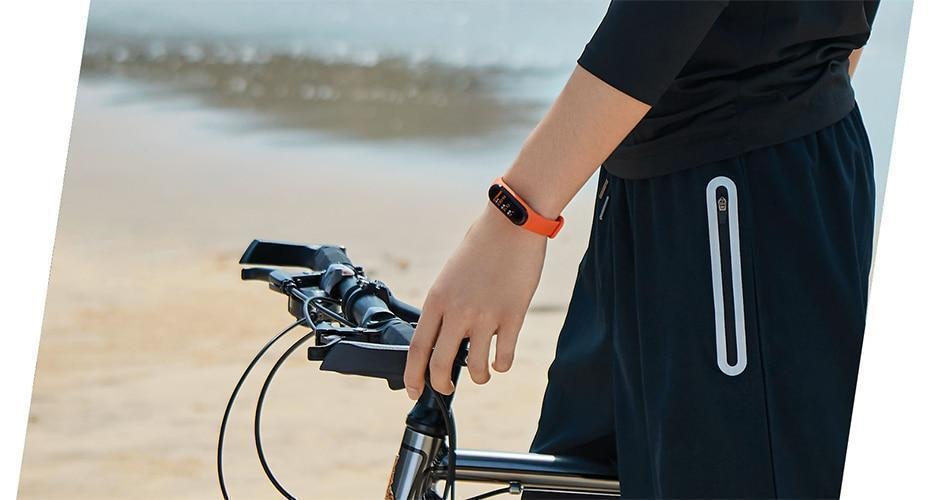 Swimming mode
50m water proof, record speed and other 12 data of swimming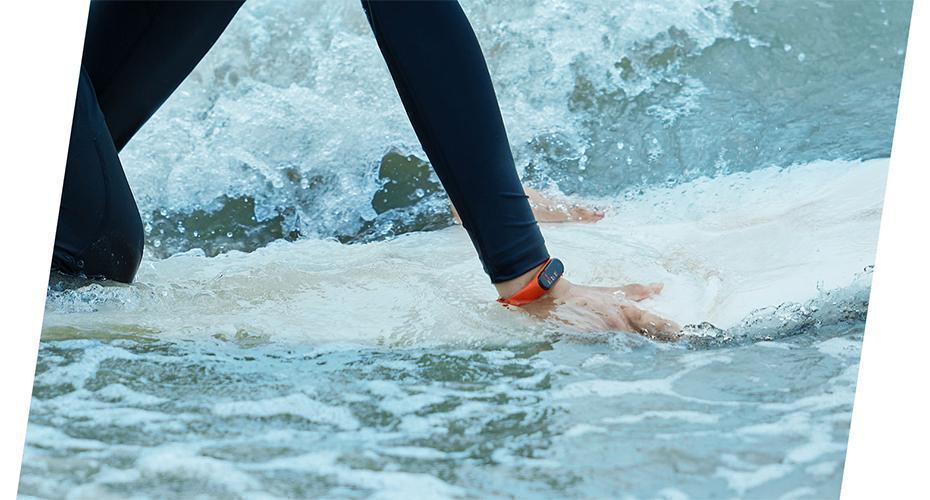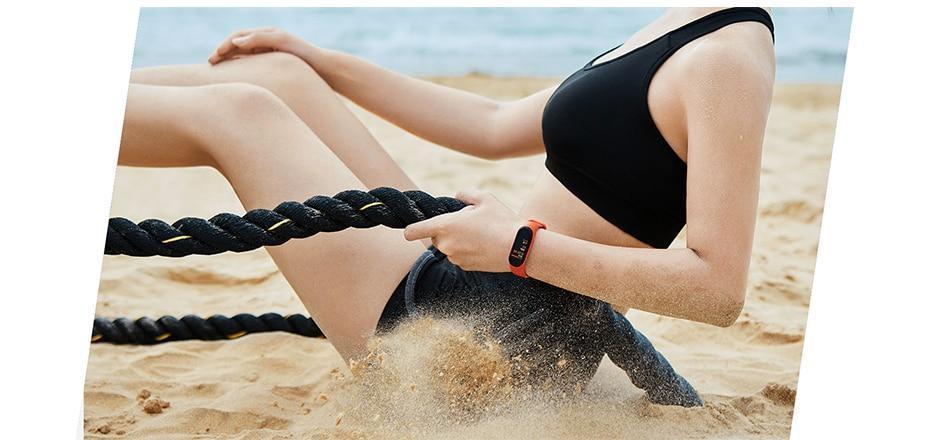 Sleep Monitoring
Record your status of sleep, help you to improve yourself
Accurately record sleep information every night, Date analysis such as deep sleep and low heart rate, Help you adjust your sleep habits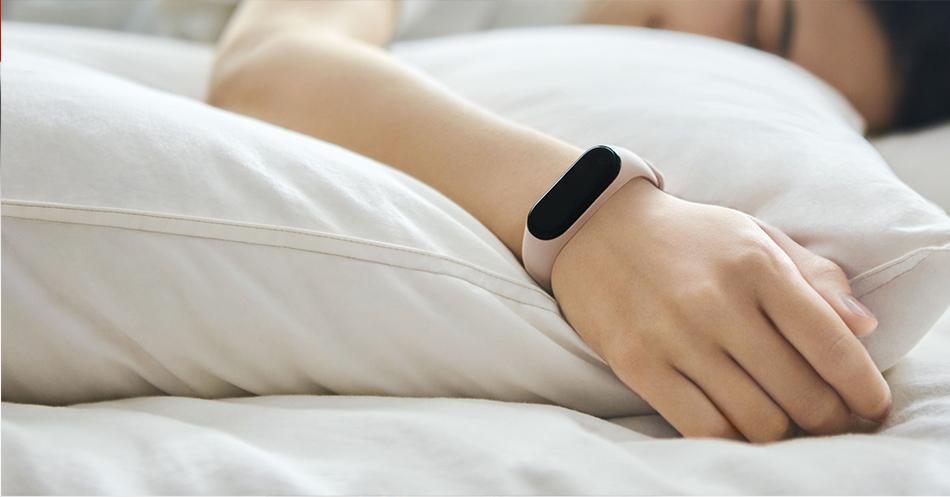 Sleep monitoring Bracelet alarm clock Mi Fit APP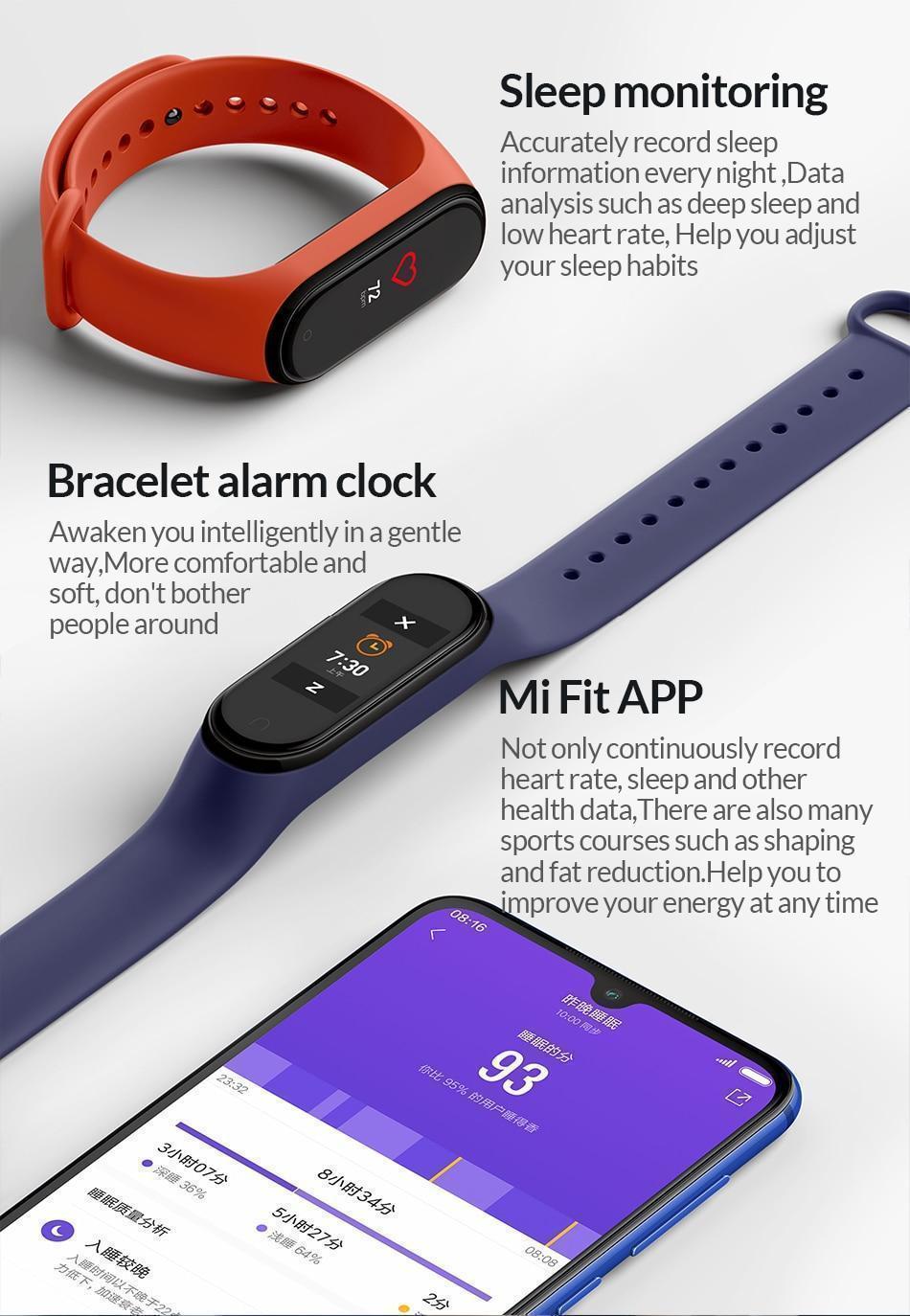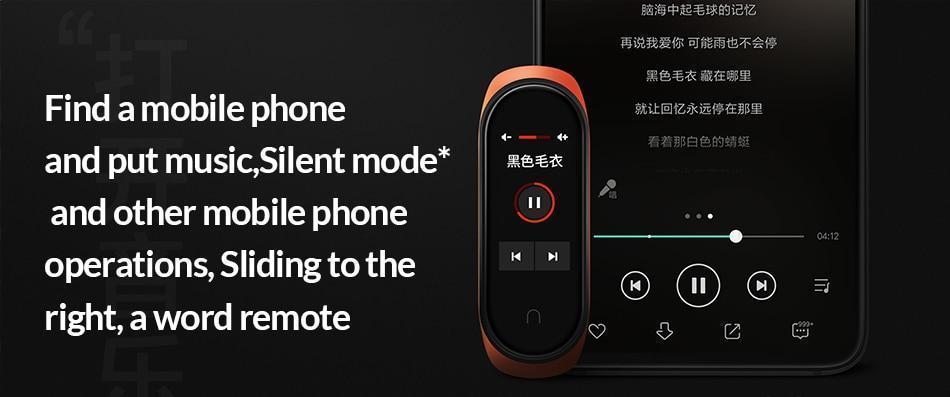 24-hour heart rate warning
Ready for busy urbanites, when the heart rate is too high, the vibration reminds you to pay attention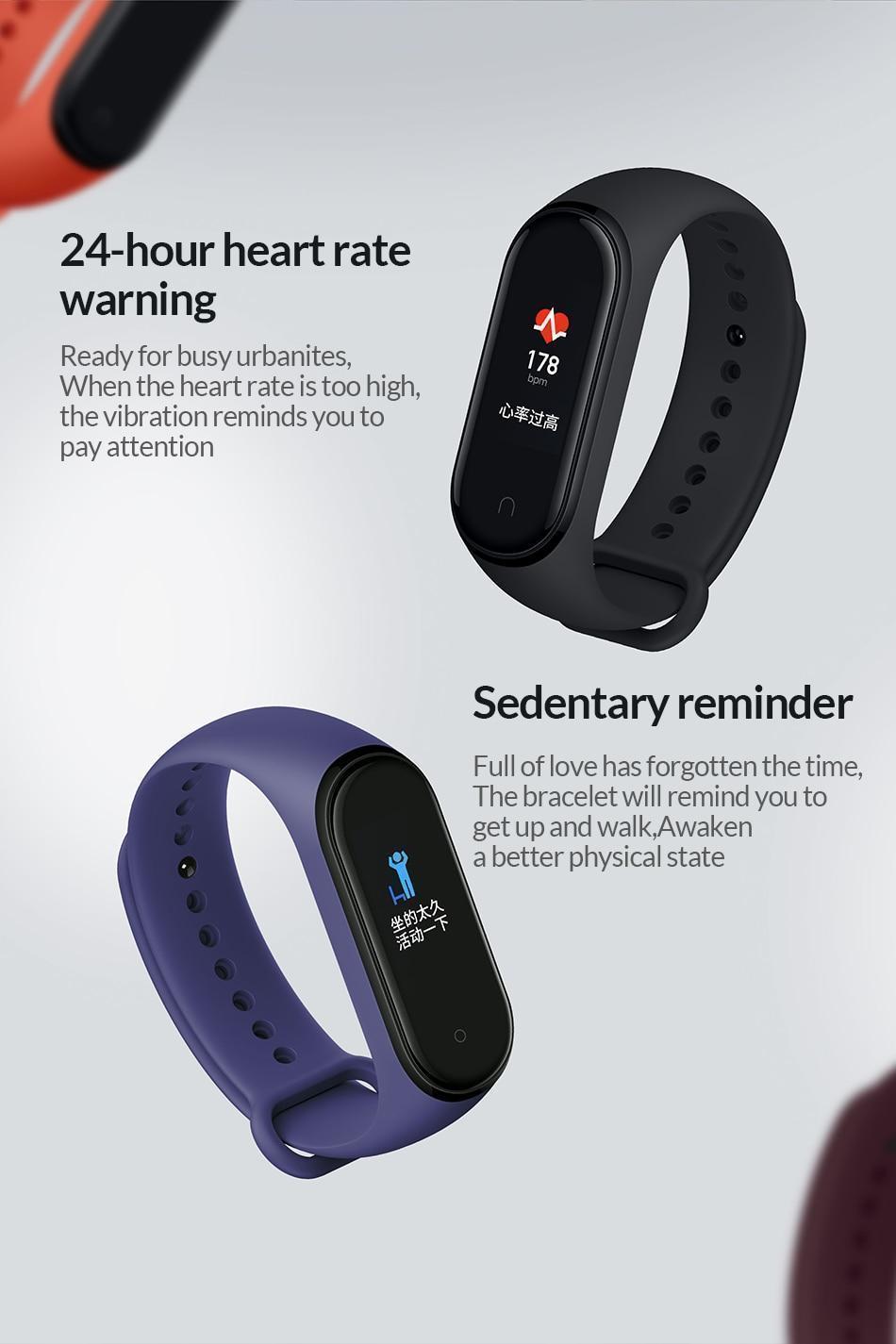 20days long bat life for the mi band 4 standard version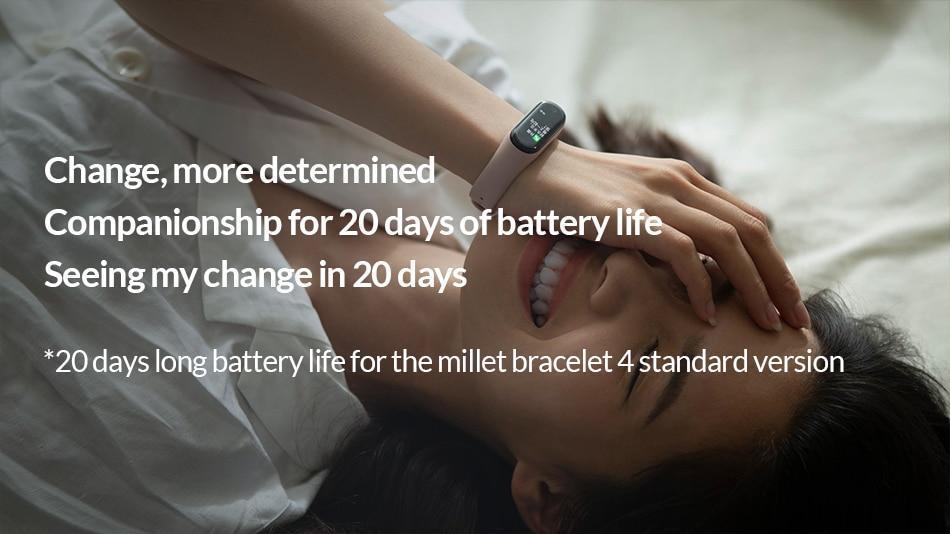 Multi-color wrist band is optional, soft skin-friendly material, comfortable to wear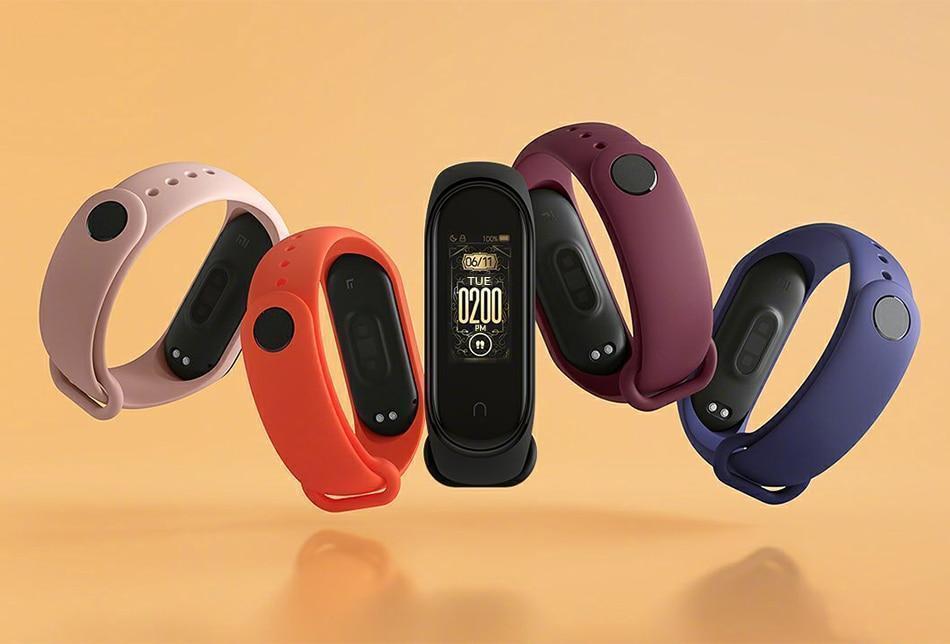 FAQ

Q: What is the different versions of mi band 4?

A: There are 3 versions. Globle version, Chinese version(standard) and Chinese version(NFC). Globle version & Chinese Ver. support multi-languge. Only Chinese NFC version have NFC and AI speaker function.

Q: Does any other lanuages will be in the smartband?

A: Languages​(Only Chinese and English is updated 100%, other ones only few parts) ★ Arabic. ★ Chinese. ★ English. ★ Dutch. ★ French. ★ German. ★ Indonesian. ★ Italian. ★ Japanese. ★ Korean. ★ Polish. ★ Portuguese. ★ Spanish. ★ Russian. ★ Thai. ★ Turkish. ★ Ukrainian. ★ Vietnamese.

General
Brand: OriginalXiaoMi
Bluetooth version: V5.0
Waterproof Rating: 50atm
Color: Black
Compatability: Android 4.4 and above/ IOS9.0 and above
Special Features
Health tracker: Measurement of heart rate,Sleep management,Pedometer,Calories burned measuring,Steps counting,Distance recording,Sedentary reminder
Other functions: Unlock phone without password,Call/APP message reminder,Time,Alarm Clock
Alert type: Vibration
Sensors: ADI ultra low-power acceleration sensor + photoelectric heart rate sensor
Working temperature: -10°C ~ 50°C
Display
Screen: 0.95inch AMOLED Display
Touch key: Yes
Bat
Bat type: Lithium polymer bat
Bat capacity: 135mAh
Standby time: About 20 days
Input current: 45mA (TYP), 65mA (MAX)
Input voltage: DC 5V
Material
Mi-core material: Plastic + Alloy
Case material: TPEE
Band material: TPSiV
Weight and Size
Band total Wide: 18 mm
Adjustable length:155-216mm
Alloy Body Dimension (L x W x H): 17.9 x 46.9 x 12mm
Product weight: 22.1g
Specifications of Xiaomi Mi Band 4 Smart Bracelet Heart Rate Monitor Sport Watch - General Version
Brand

Xiaomi

SKU

120810422_BD-1040080447

Bluetooth

Yes

Tracker Style

Others

Strap Material

Silicon

Compatible Operating System

Universal

Model

Mi Band 4
What's in the box
1 X Mi Band 4
দ্রষ্টব্য

১। প্রোডাক্টের অর্ডার স্টক থাকা সাপেক্ষে ডেলিভারি করা হবে। অনিবার্য কারনে পন্যের ডেলিভারিতে বিক্রেতা প্রতিশ্রুত ডেলিভারী সময়ের বেশী সময় লাগতে পারে।

২। অর্ডার কনফার্মেশনের পরেও অনিবার্য কারনবশত যেকোনো সময়ে BEST SHOP আপনার অর্ডার বাতিল করার ক্ষমতা রাখে। এক্ষেত্রে অগ্রিম মুল্য প্রদান করা হলে রিফান্ডের প্রয়োজনীয় তথ্য (বিকাশ নং/রকেট নং/কার্ড নং ও অন্যান্য) এবং প্রোডাক্ট ডেলিভারির জন্য কুরিয়ার দেয়ার পর আপনি গ্রহণ না করলে উক্ত কুরিয়ার থেকে প্রোডাক্টটি BEST SHOP ফেরত আসার পর সর্বোচ্চ ১০ কার্যদিবসের মধ্যে টাকা ফেরত দেয়া হবে।

৩। যে সকল প্রোডাক্টের গায়ে মূল্য লেখা থাকে এবং কোনো কারণে BEST SHOP মূল্য তার থেকে যদি বেশি থাকে, সেক্ষেত্রে অতিরিক্ত মূল্যের ক্ষেত্রে আপনাকে অতিসত্তর ৪৮ ঘন্টার মধ্যে [email protected] এ মেইল করে কমপ্লেইন করতে হবে। আপনার কমপ্লেইনটি ঠিক হলে আপনার প্রদানকৃত অতিরিক্ত মূল্য ১০ কার্যদিবসের মধ্যে বিকাশের মাধ্যমে ফেরত দেয়া হবে।
Return Policy: ডেলিভারি ম্যান থাকাকালীন প্রোডাক্ট চেক করে, ডেলিভারী ম্যানকে টাকা দিবেন। ডেলিভারি ম্যান চলে আসার পর কোনো অভিযোগ গ্রহণ করা হবে না, কোনো প্রোডাক্ট চেঞ্জ অথবা রিটার্ন হবে না। কোনো সমস্যা থাকলে ডেলিভারি ম্যান থাকাকালীন আমাদের কল দিবেন।
Exchange Policy: আমাদের এক্সচেঞ্জ সুবিধাও আছে তবে তা ২৪ ঘন্টার মধ্যে ক্লেইম করতে হবে। এক্সচেঞ্জের সময় ডেলিভারি ম্যানের কাছে নিচের জিনিস গুলো অবশ্যই সঠিক ভাবে বুঝিয়ে দিতে হবে-
১। প্রোডাক্ট
২। প্রোডাক্টের সাথে প্রদানকৃত বক্স/প্যাকেজিং সামগ্রী
৩। বিল/ইনভয়েস
Disclaimer- Product color may slightly vary due to photographic lighting sources or your monitor settings.